Monday, July 13th, 2009
---
6:40 am
Sunday, April 15th, 2007
---
8:18 am
needed:

new car
new job
new body

got:

new car
new job
new body

whos happy? thats me
Tuesday, February 20th, 2007
---
9:44 pm
gah.......


im losing so much weight.....but you cant tell
Friday, December 29th, 2006
---
3:33 pm
yogurt....done.....
now its time for a nap.
i must get up and clean the house.
pick my nig up from work at 10.
then its time for sleepy mcsleep sleep again. yeah right.
probably come home and clean the rest of the house that i wont finish.
so a friend of mine moves in to our apartments tomorrow....which is another 300 off rent for february. its awesome cause i can use that 300 to declaw my kitty and pay his security deposit. my lif eis finally coming together. i miss my mew mew. anyway. rent goes up to 574 a month so i can have my cat here. not too terribly bad. i got this shit!!!!

Work is good. love is fabulous. life is grand. miss my friends. miss you!!!

current mood:

cold
Saturday, December 16th, 2006
---
1:45 pm
On the twelfth day of Christmas,
lilangelgal8302
sent to me...
Twelve friends drumming
Eleven clerks piping
Ten incubus a-leaping
Nine tattoos dancing
Eight spiders a-milking
Seven deftones a-swimming
Six piercings a-biting
Five bri-i-i-ight eyes
Four venetian snares
Three empire records
Two murder scenes
...and a cold in a david bowie.
Thursday, December 14th, 2006
---
12:42 pm
Life's too short to wake up in the morning with regrets. So love the people who treat you right, forget about the ones who don't, and believe that everything happens for a reason. Know a good thing when you see it, and don't let it slip away. If you get a chance, take it. If it changes your life, let it. Nobody said it'd be easy, they just promised it would be worth it.

As I look into your eyes as you stare into mine, and all I can think is, I know I'm the luckiest girl in the world


I've got someone who loves me more than words can say
And I'm thankful for that each and every day
And if I count all my blessings, I get a smile on my face:-)
Friday, December 8th, 2006
---
1:13 am
- fuckin teeth
slowly dying.

cant keep doing this.

is all the pain worth it in the end......

fuck being broke.....lets knock these bitches out.

someone give me drugs.

the end


all vicoden welcome

current mood:

annoyed
Monday, December 4th, 2006
---
5:20 pm
THE CLASH LYRICS

"Rock the Casbah"

Now the king told the boogie men
You have to let that raga drop
The oil down the desert way
Has been shakin' to the top
The sheik he drove his Cadillac
He went a' cruisnin' down the ville
The muezzin was a' standing
On the radiator grille

[Chorus]
The shareef don't like it
Rockin' the Casbah
Rock the Casbah
The shareef don't like it
Rockin' the Casbah
Rock the Casbah

By order of the prophet
We ban that boogie sound
Degenerate the faithful
With that crazy Casbah sound
But the Bedouin they brought out
The electric camel drum
The local guitar picker
Got his guitar picking thumb
As soon as the shareef
Had cleared the square
They began to wail

[Chorus]

Now over at the temple
Oh! They really pack 'em in
The in crowd say it's cool
To dig this chanting thing
But as the wind changed direction
The temple band took five
The crowd caught a wiff
Of that crazy Casbah jive

[Chorus]

The king called up his jet fighters
He said you better earn your pay
Drop your bombs between the minarets
Down the Casbah way

As soon as the shareef was
Chauffeured outta there
The jet pilots tuned to
The cockpit radio blare

As soon as the shareef was
Outta their hair
The jet pilots wailed

[Chorus]

He thinks it's not kosher
Fundamentally he can't take it.
You know he really hates it.

current mood:

amused
Wednesday, November 22nd, 2006
---
12:49 pm
got a new tattoo. another tinkerbell surprise surprise. too cute though
Thursday, October 26th, 2006
---
11:37 am
Friday, October 13th, 2006
---
4:16 am
- More pics of baby Arianna..........
Candiss and Branden are soo lucky that shes such a great baby girl. shes happy and healthy. They are such good parents......Candiss makes the best mommy in the world.






Thursday, October 12th, 2006
---
11:41 am
- good news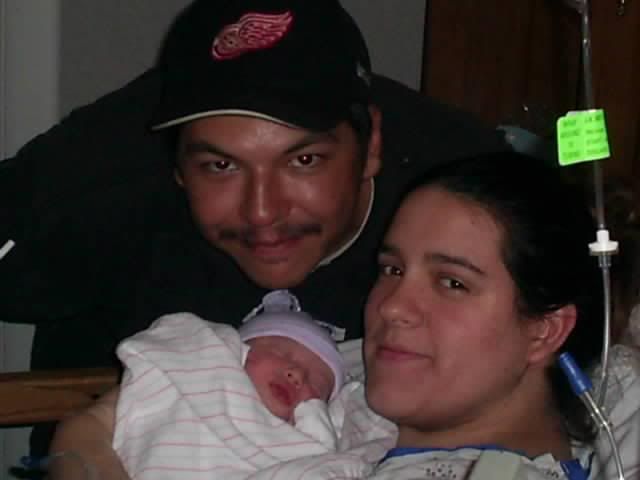 Arianna Christine Kechego was born this afternoon at 12:22pm

6#10oz 19 Inches Long
Very happy and healthy.
Sunday, October 1st, 2006
---
6:30 am
Thursday, September 28th, 2006
---
12:12 am
So i got what i thought i wanted. more stress from a different location. i had forgotten how absolutely busy we get there at hoover. i also forgot how hard it was going to be going from closes to mornings again. i am still not sleeping much at night. i am only sleeping for a few hours in the wee morning when i would normally be heading home on an early night. its made me so crabby that i am lucky i still have a fiancee and friends. but all in all its been ok. i love the people there so much better. they are 14 shades of wonderful.

I am tired thoough right now and all i wanna do is go to sleep but i work a 2-10 tonight and then i have class early tomorrow morning in southfield. so that should prove to be very interesting.

the next two days after that i have off though...yayayayayyayay

nani was supposed to come over and have a movie day all day with me yesterday and she never came. it made me cry a little.

oh well......love ya

sleeplessin156
Sunday, September 24th, 2006
---
2:06 am
so tool was amazing, so was drunk girl sucking nipples. i spent the day with my mom and family. now off to work. gah i hate work. the end.

oh yeah.....

there is nothing else to say.
Friday, September 22nd, 2006
---
9:38 am
TOOL!
Its okay...be jealous.....
Friday, September 8th, 2006
---
1:44 am
ummmm..........

ct.......rina..........me

=

love

&hearts&
Sunday, July 30th, 2006
---
10:56 am
im sooo lame because i love PARAMORE.......i know you can all hate on me now
Wednesday, July 26th, 2006
---
8:47 am
oh so yesterday was worse than i could have ever imagined it was going to be i am going to go in early today and hopefully get shit straight. it makes me sooo angry
Sunday, July 23rd, 2006
---
6:46 pm
got transfered to another store cause a psycho couldn't control herself.......................

wanted to go see fireworks tonight but couldnt find a place to park and i cant fight traffic well........





dreading tuesday

current mood:

annoyed